Description
After many years of success and thousands of vehicles running its predecessor the Spartan 2 wideband, 14point7 have been working away on the successor to one of the worlds toughest, most reliable and accurate widebands the Spartan 3 ADV. It's here and has landed with a bang, the Spartan 3 ADV CAN lambda controller is without a doubt one of the best wideband products on the market today and at a price point that makes them available to almost every performance car enthusiast.
There has been some serious upgrades in technology used in the Spartan 3 ADV, from using one of the latest & most advanced oxygen sensor designs on the market today, to having CAN communication added with support for big brand name ECU's such as Link, Adaptronic & Megasquirt 3 MS3, to wireless communication with the controller over Bluetooth for configuration and even wireless streaming of air fuel ratios using the Torque app on your android phone and tablet. The Spartan 3 ADV is one hell of a CAN wideband controller, and again 14point7 have managed to achieve all this without asking you to break the bank to be able to afford one.
Some will ask does this unit make the Spartan 2 obsolete and the short answer to that is no, the Spartan 2 is still a terrific wideband product at one of the most competitive prices on the market, but for those wanting CAN communication to their Link, Adaptronic or MS3 aftermarket ECU's, or those wanting a lambda controller that is higher end with faster response times, using the latest in oxygen sensor design, or being able to wirelessly steam an air fuel readout to the Android phone or tablet, the Spartan 3 ADV is a terrific higher end wideband controller with more features and functions than it's predecessor.
14point7 has been around for a long time, but some of you might not have heard of them before. This is because unlike Innovate & AEM who pretty much just target the masses, 14point7 catered more to the tech savvy DIY car community out there, they also in the past more targeted the aftermarket ECU community of the Megasquirt which isn't huge here in Australia. Don't be fooled by their reasonable prices, the Spartan 3 ADV is one of the best CAN lambda controllers in the world today, with a response rate of just 5ms it is more than three times the speed of its nearest competitor on the market, when buying 14point7 you are getting some of the very best wideband tech in the industry without having to pay the big brand name tax.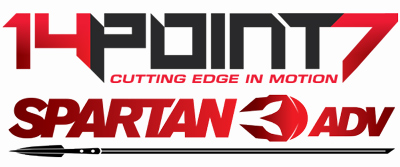 LIGHTENING FAST RESPONSE @ 5MS
No one likes lag, the Spartan 3 ADV has a blistering response rate of just 5ms, and yes you read right 5ms. The Spartan 3 ADV is the fastest responding wideband controller in the world today. How this has been achieved is by utilising the very latest generation Bosch internals on the OEM ADV oxygen sensors supplied with these kits. These sensors are in another league compared to the standard 4.9 sensors and allow the Spartan 3 ADV hardware to take advantage of the sensors superior response rate to achieve what is currently the fastest responding wideband in the world. There are more benefits to using these latest sensors as well and we run through some of those further down this page.
OEM ADV 02 SENSORS
The Spartan 3 ADV CAN wideband controller ships with an OEM ADV LSU which 14point7 had manufactured for just for these kits, they use Bosch ADV 02 sensor internals to create a cost effective but extremely robust and blisteringly quick wideband oxygen sensor. This is top of the line oxygen sensor has had some significant improvements to its design compared to the 4.9 02 sensors, one being the response rate which we talked about above. The first is a redesigned sensing element, the ADV sensors now use a Linear design for the element instead of Radial used on the standard 4.9 sensors, and this has some distinct advantages when it comes to response rates, life expectancy and overall toughness of the sensors. The heater design has also been improved for reduced power demand, the sensors are now also less prone to thermal shock which is a major killer of 02 sensors thanks to the redesign of the sensor element. If you want the toughest, fastest responding & most reliable 02 sensors for your application, you really can't go past the latest ADV LSU sensors.
LINK CAN SUPPORT
The Spartan 3 ADV can be set to directly emulate the Link CAN protocol, and so will allow them to be connected to Link engine management systems that support CAN lambda controllers for simple and easy communication of wideband data into your Link ECU over their CAN protocol. Being that the Spartan 3 ADV will emulate the Link CAN protocol, this makes the setup process extremely simple, just select Link CAN lambda wideband in your ECU software and the Spartan 3 ADV will start sending wideband data to your ECU, simple as that. Link and 14point7 worked together to make sure the implementation and support for the Spartan 3 was solid, both Lambda & sensor temps are reported directly into the ECU.
ADAPTRONIC CAN SUPPORT
Just like Link, Adaptronic also added support for the Spartan 3 ADV wideband into their ECU's to communicate over CAN, so if you own an Adaptronic ECU that supports CAN such as their latest Modular series, you can select the Spartan 3 as a CAN wideband device in your ECU software to get a stable and reliable wideband signal into your ECU over CAN. It's a simple case of setting the appropriate CAN protocol for Adaptronic on the Spartan 3, then going into Eugene's wideband setup section selecting the Spartan 3 from the drop down and off you go.
MEGASQUIRT 3 CAN SUPPORT
14point7's default CAN protocol on the Spartan 3 ADV is now compatible with the Megasquirt 3 also known as the MS3 range of ECU's. 14point7 has a long history of supporting the Megasquirt community and this has continued with their very latest Spartan 3 ADV models bringing one of the very best CAN lambda controllers on the market today to Megasquirt 3 users. Now you are able to communicate directly with your MS3 ECU over CAN for a completely digital signal for your lambda data and sensor temperatures.
BLUETOOTH & TORQUE
Another feature of the Spartan 3 ADV is that it has a Bluetooth chip on board to wirelessly communicate with Android phones and tablets. What this has allowed for on top of being able to change the devices settings wirelessly is, it's now possible to use the Torque app on Android phones or tablets to create a virtual AFR gauge in the app which can display air fuel ratio or lambda readings wirelessly from the Spartan 3 ADV. This can be handy for those who want a wireless gauge so when under the hood or outside of the car they can get readings from the wideband on a cable less portable device, or just have their phone mounted in the car to be used as a gauge. Of course it's still possible to run a physical gauge, but customers now have the option to pick and choose one or the other or can do both. Note the Torque app is a paid app, but doesn't cost a lot.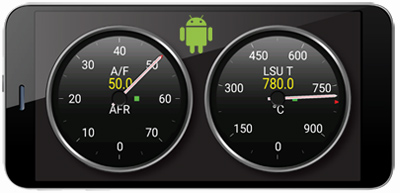 FIRMWARE UPDATABLE
Because the Spartan 3 ADV has a Bluetooth chip on-board, it is possible to update the units firmware wirelessly if required using a Windows 10 laptop. Unlike some other wideband products where updating firmware or making changes to settings required cumbersome serial cables or using serial to USB cables, the Spartan 3 ADV with its Bluetooth connection makes updating firmware or changing settings on the units a wireless process, no more having to plug in cables or work with outdated serial connections. A simple terminal app can be installed on your Android phone or tablet to change the units settings, or when wanting to update its firmware you can do so wirelessly using your Windows 10 laptop.
DIESEL AFR RANGE SUPPORT
Another feature of the Spartan 3 ADV is that it is perfect being used for Diesel tuning applications, the units are able to change the default AFR range of 10-20 to 10-40 AFR to suit Diesel tuning. Along with using the latest ADV sensors which will handle Diesel better than the 4.9 sensors, and having the correct wider AFR range, the Spartan 3 ADV will be a perfect Diesel wideband solution. With this package customers will need to use the Torque app on an Android phone or tablet to get a gauge reading of the AFR's, but if wanting a physical gauge to display the AFR readouts, checkout our 52mm LCD gauge bundle, as these gauges have the option to also change from the standard 10-20 AFR readout to displaying a 10-40 AFR range for Diesel's.
0.01 LAMBDA ACCURACY
14point7 takes extreme pride in the accuracy of their Spartan 3 ADV CAN lambda controllers, because of the high quality components used and their extensive factory calibration process each unit goes under, this little unit boasts a 0.01 Lambda accuracy out of the box. Another feature of these is that they do not require any free air calibration. Something else 14point7 do that not a lot of other widebands do is run a dual ground setup, now this is really most applicable when utilizing the 0-5v analog out on the controllers, so if using these over CAN and not using the 0-5v out it's not as important, but if you are running a gauge off the 0-5v analog out on these lambda controllers, this dual ground setup helps keep the signal extremely stable and accurate, without this in place analog outs on widebands can be noisy and readings jump around more than they should.
WIDEBAND ANALOG OUTPUT
The Spartan 3 ADV also has a linear wideband analog output, which can be used to connect to gauges, ecu's, data loggers etc. While those with CAN enabled Link, Adaptronic or Megasquirt 3 ECU's can take advantage of running the CAN signal from these units into their ECU's, for gauges or people connecting to older ECU's the analog output is still used and required. If you want to take advantage of your aftermarket ECU's closed loop function or auto tune and don't have a CAN enabled ECU, you will need to run the wideband analog out from the Spartan 3 ADV lambda controller back you're the analog in on your aftermarket ECU. The Linear Output is: 0v @ 0.68[Lambda] – 10[AFR] to 5v @ 1.36[Lambda] 20[AFR] equivalent for gasoline.  Check before purchasing that your ECU is able to accept this format.